Avenue Restaurant and Catering Thanksgiving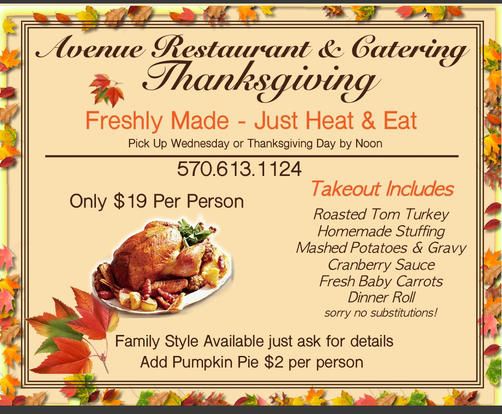 Freshly Made Just Heat and Eat
Its that time of year again!
Order your Take Home Meal Now!
All dinners can be packaged up individually or family style in groups of 6 or more. Pricing is $19 per person and is freshly made- Just Heat and Eat when your ready.
Please call --and reserve your dinner now before its too late. This year its better to order earlier due to the limited availability of items. Pick ups will be Wednesday before Thanksgiving from 4 to 8 pm and Thanksgiving 8 am to 11:45 am.
Each dinner will include the following:
Fresh Roasted Turkey , Yukon Mashed Potatoes, Fresh Baby Carrots, Cranberry Sauce, Gravy, and a Dinner Roll.